The whole idea of going away to celebrate our vow renewal was based on my husband's idea of renting a cottage. 
After deciding on the location of Wales for our 10th Wedding Anniversary it was time to find a place to stay.  We contacted our family and friends, added up our final head count of adults and children, and used 
Holiday Lettings
online to search our options.  In the end we decided on Penycoed Hall Guest House located in the town of Dolgellau in the Snowdonia region of Wales.  While researching the Penycoed Hall Guest House had won us over due to its perfect location, the ability to fit the number of guests in our party, and its eye catching grand staircase.  
From a photographer's standpoint I wanted a bit of elegance and I could immediately imagine walking down those stairs in my wedding gown.  To be honest I was not really all that blown away by the the photographs pictured online of the bedrooms and common area.  However, upon arriving to Penycoed Hall Guest House I realised the photographs on their website were 
outdated
 and the rooms went above and beyond my expectations.  The huge common area, where our entire party spent most of our time while inside, had been recently redone.  With a statement colour of hot pink and a wallpaper that was definitely a conversation starter, our decision on the location was confirmed as perfect.  I admit pink is my favourite colour and so every time I entered the room it just put me in a really good mood.  
It was raining in Dolgellau when we arrived and so it was one of those mad dashes from the car into the building.  As soon as we stepped through the door we were greeted by the charming hosts, Nigel and Madge with their two adorable dogs, who won over our entire party through out our stay.   Madge gave us the tour of the rooms and Nigel gave us plenty of information about places to visit and see during the week.  I have not stayed at that many B&Bs, but am certain that any stay after this trip will be judged by our our experience at the family run business, Penycoed Hall Guest House.  I was ready to rebook before we even checked out. 
Technically we were not staying at the Bed & Breakfast portion of Penycoed Hall Guest House, but renting the Victoria and the Penthouse apartments for a week.  This encompassed two floors of the traditional Welsh mansion with four bedrooms, a common room on the top floor, and a kitchen and bathroom located on both floors. This was enough space for all four family groups and so everyone was able to get their meals squared away.  We tended to do our own thing for breakfast and lunch and do dinners together as a group.  
f r o m   o u r   7   d a y   s t a y 
While there are many perks to staying at a bed & breakfast 
I came up with my favourite things about staying at the Penycoed Hall Guest House:
Free Wifi.  I know it may say something about me to list this amenity first but it was a big factor in helping the week go smoothly.  Wifi was available in the downstairs lobby and sometimes we could get a signal from the rooms upstairs in the Penthouse Apartment.  Which was lovely as I could keep up the blog maintenance, we could research our day to day activities, and others could work on projects for work requirements with needed internet access.  The plus side of having it mainly accessible from the lobby was that it was much easier to go 'unplugged' to social media sites and really be on vacation.
Kid Friendly.  Between our four family units we had five children with us. Let me clarify. We had five boys between the ages of two and eight with us in our group.  There was enough space to accommodate family needs as well as an amazing garden to help the boys run out all their energy.  The perk of the garden was the large trampoline and the rope swing.  I should also mention that the dogs were really good around the boys, who loved playing with them any chance they could get. 
Space & Comfort. Staying in an apartment like setting at the B&B was perfect for a family on vacation.  Everyone was split up into rooms and each had their own 'space'.  Perfect for bringing the comforts from home while feeling treated to the vacation stay.  There were places to go inside and out when you needed solitude, a big enough kitchen to bake a wedding cake, and even satellite television.  While I cannot speak for the rest of our party, my husband and I really enjoyed our room.  As with most of the other upstairs rooms, it had an amazing skylight window which really brightened the room up during the day.  Between a five drawer dresser, a wardrobe, and two bed side tables with drawers we had plenty of room to unpack our belongings.  Our bed was very comfortable and the room was an inviting place to escape after a long day.  The entire guest house was able to bring about modern necessities while keeping to the character and charm of the mansion's original features. 
Location & 

Atmosphere. 

 These were the top selling points for my husband when asked about his stay at Penycoed Hall Guest House.  With its location nestled in its own secluded gardens, located above the town of Dolgellau, it felt like we were hidden away.  This perfect location for a holiday was coupled with a very short walk of mere minutes into town.  The nearby grocery store was easy to get to without a car and there were plenty of places to eat and shops in the town.  As far as places to go to during the day for activities there is no shortage of options.  We enjoyed the beach, the Cadair Idris mountain, a ride on a steam train, a King Arthur activity park, abbey ruins, and the town of Portmeirion. 
Price. We ended up having seven adults between the four different families in our party.  We divided the cost between us by the number of heads in each family group and gave the bigger room to the biggest family group.  For a week at the end of July, the two apartment areas came out to be £799.   To give you an example of what that was per person, when broken down per night  my sister was essentially only paying £11.42 ($17.78) a night.  Honestly if we go back to Dolgellau again I would not think twice about staying anywhere else.  
Any Downsides? 
 No not really.  For my family the place went above and beyond our expectations when we booked the reservation. Our party only ran into one hiccup during our stay which affected about half our group.  The 
holiday lettings website
 we booked the rooms from stated there was a washing machine available.  One of the families had been traveling for a week already and had planned on this information to do laundry.  With no clean clothes, we were told of a launderette in town and headed that way with all the laundry in tow.  Unfortunately we found out the launderette was closed due the owners of it having moved.  I have since checked the guest house's personal website (different from the vacation rental's listing) and there is no mention of a washer being available there.  It looks to be a case of a slight slip up between the congruity of the guest house's website and the holiday rental's website. 
My recommendation? Go to Dolgellau when planning your next trip to Northern Wales.  I believe whether you choose Penycoede Hall Guest House for a conventional bed & breakfast or a self catering holiday, it will not disappoint. For our family and friends it was the perfect location for the week of making memories that will last a lifetime.
————
In search of more travel blogs? I have a sponsor this month who is sure to win over your heart as much as she has won over mine.  Meet Lindsey from
A Broads World
.  She documents her travels domestically across the US and on her expat life living in Thailand and now Australia.  She teaches, she loves food, and seeks out adventure!  Like posts with great photographs? You will really like keeping up with A Broads World.  Plus she has the most adorable family member with four legs, a dog name Montana.  Head over and let her know you found her from A Compass Rose. 
Follow Lindsey & A Broads World online: 
Recommended reads from Lindsey:
———-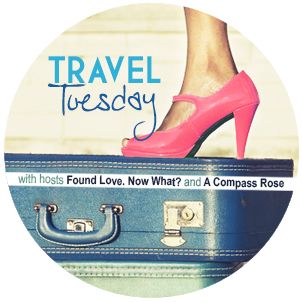 Here's how it works: 
1. Share a post about travel!  From road trips to trips abroad and from past travels to dream vacations. You can write about travel tips and tricks, favorite places to stay, or anything in between! Just make it about traveling somewhere! 
2. Grab the lovely button.  If you have any trouble, feel free to save the button to your computer and upload it into your post that way.
3. Linkup goes live! Every Tuesday at 8 am GMT. 
4. Hop around! Meet new travel loving bloggers! Link up will be open for a few days, make sure to check back to visit some of the newer travel posts! 
5. Please only one linked up post per blogger.  Save other posts for future linkups!