I took this self portrait  on the roof of the Rondo Theatre in between scenes where I was not on stage during one of our matinee performances.  I cannot express in words how much fun I had playing an 18th century princess in the Cinderella Panto and getting to dance around stage in pink and my hair piled high in curls. I honestly try to wear denim trousers as little as possible because of the fact that I love dressing up so much. Perhaps I was born in the wrong era.
Self Portrait: 'Antoinette' by Bonnie Rose Photography © 2007 – 2014 All Rights Reserved | http://www.bonnie-rose.co.uk
———-
DO YOU LOVE SELF PORTRAITS?
I try to do one every week and post on a Saturday.
If you would like to link up with me, add this button to your blog.
I would love to see your photography!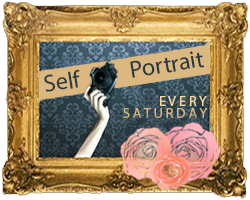 Get out those tripods, remote controls, and set your self timer!
How It Works: It must be a 'self portrait' and does not need to be an image you took this Saturday. Feel free to link up to past Self Portrait posts in your blog. This link up will be every Saturday so feel free to use that as your motivation to learn more about your camera, hone in on your photography skills, try out new post processing techniques, and let your creative spirit come alive. Join the Self Portrait Saturday challenge!