This is my first post about our trip to
Wales
for our
10th Wedding Anniversary
.  We drove from where we live in Bath, England to Dollegau, Wales.  Instead of driving straight through we decided to stop somewhere halfway so that the kids could all get out and run around for a bit.  It was in the town Crickhowell, Wales where we got out and met up with our friends.  Up to this point Wales had been seen from behind the glass windows of the car in awe.  The countryside is so beautiful and dotted everywhere with sheep.
Upon arrival in Crickhowell we found the remaining ruins of a
castle
that became the majestic backdrop for the childrens' park in town.  Adjacent to the playground a cricket match was going and there was a neighbouring field of sheep. It could not have been a more perfect setting for our first experience in Wales for this trip.  
There were five kids among the two families and they had an amazing time playing together despite the rain.  At one point the rain was just coming down in buckets while they screamed and ran and enjoyed every drop.  All in all it was a lovely place to stop and definitely worth a look for this week's
Travel Tuesday
post.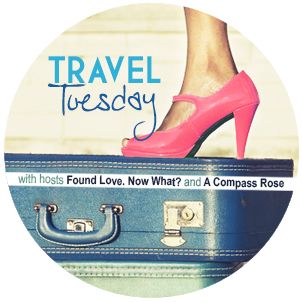 Here's how it works: 1. Share a post about travel! From road trips to trips abroad and from past travels to dream vacations. You can write about travel tips and tricks, favorite places to stay, or anything in between! Just make it about traveling somewhere! 2. Grab the lovely button. 3. Linkup goes live every Tuesday at 8 am GMT. 4. Hop around and meet new travel loving bloggers! Link up will be open for a few days, make sure to check back to visit some of the newer travel posts! 5. Please only one linked up post per blogger. Save other posts for future linkups!