Another Edition of Travel Tuesday with my cohost
Belinda
 and I decided I wanted to skip forward in my recap of Wales and share with you one of the reasons I love going to the beach.  My family loves going to the beach.  From the west coast of Monterey, to the island of Oahu in Hawaii, to Seaside Heights at the Jersey shore on the East coast, to across the pond to pebble beaches of Brighton, and now over to the beaches in Wales.  It is all about being near the ocean, smelling the salt in the air, and enjoying our time at the seaside.  
We ended up going to the beach twice during our week in Wales which made me conclude that I could easily come back every year just to spend two whole weeks at the beach.  Honestly my sons would be quite happy about that.  With everything we did in New Jersey last Summer, some which were not that cheap, they preferred the free visits to the beach the most.  One of their favourite things to do, well after running into the ocean to body surf a million times, is to build sandcastles.  Last year they had an amazing time with Nonna using all the neat buckets and shovels for sandcastle building.  There is just now limit when it comes to creativity and will power.
While we were in Wales I was inspired by two builds from other patronages of the beach.  Though not big and intricate, they were simple and beautiful.  The first because the kids who had built it took the time to bring little flags for which to decorate the castle.  They even had the Welsh flag with the dragon on it.  The second was a speedboat because what could be a better setting for one than the beach? 
The folks at Woolacombe Bay Holiday Parks put together a lovely infographic about The World of Sandcastles and Sand sculptures.   It is all part of a Sandcastle building competition where you can take part, send in a photo, and win a holiday at one of their four holiday parks for up to six people!
Q: What has been some creative builds you have seen at the seaside?
————–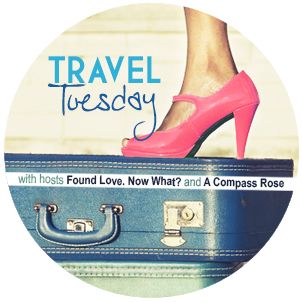 Here's how it works:
 1. Share a post about travel! From road trips to trips abroad and from past travels to dream vacations. You can write about travel tips and tricks, favorite places to stay, or anything in between! Just make it about traveling somewhere!
 2. Grab the lovely button.
 3. Linkup goes live every Tuesday at 8 am GMT.
 4. Hop around and meet new travel loving bloggers! Link up will be open for a few days, make sure to check back to visit some of the newer travel posts!
  5. Please only one linked up post per blogger. Save other posts for future linkups!
———-
My sponsor today is no stranger to the world of travel.  Selena has been to over thirty countries and she plans to double that number in the next five years! Now that is a goal I would love to join in.  I was so excited to find out about Selena when she found my blog because we have a lot in common. We are both US Air Force brats that moved around a lot as kids and now both live in England.  I find her story really inspiring to myself.  After her daughter left the house her life evolved to finding love again, moving overseas as an expat, and now exploring the world.  I am just attracted to people who love life and love seeing all it has to offer.  I think you will love Selena too!
Recommended Posts by Selena: