Another weekend has begun and with it another
Self Portrait Saturday
.  For today's
Self Portrait
I share with you the
self portrait
entitled 'From the Wings'.  Often times it is easy to feel like I am waiting for something else or something new to begin.  Being a
Third Culture Kid
and living in a highly nomadic world, I am use to a cycle of things ending and new things constantly on the horizon. I believe as a mum too it is easy to feel a bit lost in the shadows taking care of everyone else.  It can also be a place of reflection where we seek answers from someone greater and ask for direction towards the brighter future.  I love playing with different lighting situations and took this portrait looking out the window of our front door.
Self Portrait 'From the Wings' by Bonnie Rose Photography © 2007 – 2013 All Rights Reserved – www.bonnie-rose.co.uk
DO YOU LOVE SELF PORTRAITS?
I try to do one every week and post on a Saturday. 
 If you would like to link up with me, add this button to your blog. 
I would love to see your photography!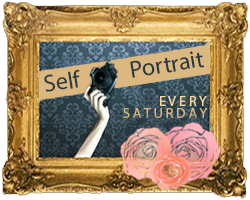 *Image original to A Compass Rose blog by Bonnie Rose Photography © 2007-2013 All Rights Reserved | www.bonnie-rose.co.uk