I am back with the
Self Portrait Saturday challenge
!  This is where any time during the week you take a photo of yourself with any camera that you own and share it with us on Saturday.  My self portrait this week is entitled 'Inside the Frame'.  No underlining conceptual themes or trick photography involved in this shot.  I was getting ready to go to my expat friend's house for tea and had a few minutes to play around with my camera and the window light while waiting on my sons to get their shoes on.  So here I am in my H&M lacy peach dress, my hair back in a chignon, and wearing my brown frames.  You normally do not see me wearing my glasses in photographs.  I used to be a girl that loved living life through her variety of colour contacts.  However I need a new contacts and have a deep love for my oversized prescription sunglasses. 
I do not mind being photographed in my glasses and to be fair love the look of me in my frames.  However I will be honest with you.  I am that girl that quickly grabs the frames off her face and hides them behind her back in a photo op.  Eyes are the windows to the soul and sometimes I just want to see that without the distraction of glasses.  It is interesting how much different someone can look with our without glasses on and so in lieu of keeping my blog grounded in authenticity here is my self portrait with me wearing my glasses inside the frame. 
'Inside the Frame' Self portrait by Bonnie Rose Photography © 2007 – 20013 All Rights Reserved | http://www.bonnie-rose.co.uk 
DO YOU LOVE SELF PORTRAITS?
I try to do one every week and post on a Saturday. 
 If you would like to link up with me, add this button to your blog. 
I would love to see your photography!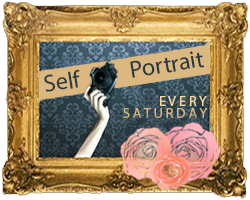 Get out those tripods, remote controls, and set your self timer! 
It must be a 'self portrait' and does not need to be an image you took this Saturday.  Feel free to link up to past Self Portrait posts in your blog.  This link up will be every Saturday so feel free to use that as your motivation to learn more about your camera, hone in on your photography skills, try out new post processing techniques, and let your creative spirit come alive. Join the Self Portrait Saturday challenge!

*Self portrait by Bonnie Rose Photography © 2007 – 20013 All Rights Reserved | http://www.bonnie-rose.co.uk