For this week's
Self Portrait Saturday
I want to inspire you to get creative for the following week.  What can you find around your house that you can use for your shoot?  Will it aid you in achieving your look or be a focus in the final shot? For this one i used a glass panel from a piece of furniture to aid me and water as my focus.  The glass panel that I used was large enough to frame my face and I held it a few inches a way with my hands. My husband assisted with spraying me down with water as well as the glass. This I found during the shoot to be important as the glass needed to be refreshed when the water drops ran off due to gravity.  For next Saturday's
Self Portrait
find what you can use and tell us about it in your description.  I look forward to seeing what you come up with and remember you can take it at any time during the week. Just make sure to share and link up with us on Saturday.  
DO YOU LOVE SELF PORTRAITS?
I try to do one every week and post on a Saturday. 
 If you would like to link up with me, add this button to your blog. 
I would love to see your photography!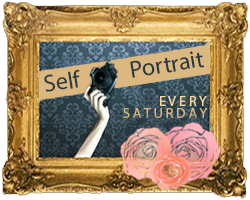 *Belongs to Bonnie Rose Photography © 2007 – 2013 All Rights Reserved | http://www.bonnie-rose.co.uk