Self Portrait: 'Pause' by Bonnie Rose Photography © 2007 – 2013 All Rights Reserved | http://www.bonnie-rose.co.uk
Welcome back to 
Self Portrait Saturday challenge
! I took a break last week which I hope was alright.  It has been quite busy around here. On top of it all we had been going to view several different houses where we could move to in December.  This was due to our landlady deciding to not renew our lease in December. Which meant we would be moving days before Christmas again this year. If we were not already a bit stressed with all the details involved with applying for my husband's visa this month, we were now.  It became one of those situations where if you just had one big stressful challenge to overcome it could be alright.  Multiply it and now all you want to do is hit the pause button. Which was the inspiration behind this self portrait.  
A BIT ABOUT THE PHOTO
I had originally planned to do this one quite differently.  I hope to try it again with my original plan and see how it turns out.  It was supposed to be me staring still into the camera while my entire family moves in chaos around me.  However I only had my youngest son to help me with this one at the time and I really like how it turned out. I will say the fact that my wrist is cut off, almost made me not post it at all.  I usually would have caught that while shooting to correct it in camera.  Obviously my mind is on a few different things all at once. I used a slow shutter speed of 1/4 of a second on a tripod and layered a few different images of my son so that he appeared to be all over the place. 
A BIT ABOUT LIFE
I found out last night that our landlady, for whatever reason, has decided she will renew our lease for another six months. Which is a huge weight off of our shoulders.  I can now  plan to be in our house for Christmas and we will not have to move next month as we had thought.  So the house hunting search has ceased until 2014 and we can focus on visas and holidays.  If I have been a bit absent in the social media world you know now where my head has been.  Feeling quite blessed to have this one issue resolved. 
———-
DO YOU LOVE SELF PORTRAITS?
I try to do one every week and post on a Saturday. 
 If you would like to link up with me, add this button to your blog. I would love to see your photography!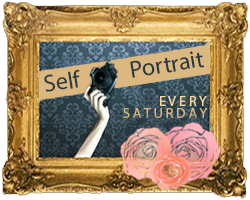 Get out those tripods, remote controls, and set your self timer!
It must be a 'self portrait' and does not need to be an image you took this Saturday. Feel free to link up to past Self Portrait posts in your blog. This link up will be every Saturday so feel free to use that as your motivation to learn more about your camera, hone in on your photography skills, try out new post processing techniques, and let your creative spirit come alive.
  Join the Self Portrait Saturday challenge!
* Self Portrait: 'Pause' by Bonnie Rose Photography © 2007 – 2013 All Rights Reserved | http://www.bonnie-rose.co.uk