My first self portrait for November has to deal with lies ahead for the rest of 2013.  We are now officially in my favourite time of the year.  This month alone is filled with Bonfire night and fireworks,  a blogger meet-up in London, my husband's birthday, my birthday, a friend's wedding, Panto rehearsals, and preparing for Christmas! So much is still yet a head and I wonder what is all in store for us this holiday season. 
Self Portrait: 'Peek' by Bonnie Rose Photography © 2007 – 2013 All Rights Reserved | http://www.bonnie-rose.co.uk
———-
DO YOU LOVE SELF PORTRAITS?
I try to do one every week and post on a Saturday. 
If you would like to link up with me, add this button to your blog.
I would love to see your photography!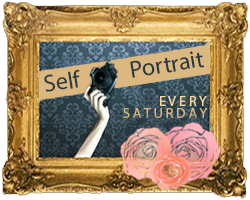 Get out those tripods, remote controls, and set your self timer!
How It Works: It must be a 'self portrait' and does not need to be an image you took this Saturday. Feel free to link up to past Self Portrait posts in your blog. This link up will be every Saturday so feel free to use that as your motivation to learn more about your camera, hone in on your photography skills, try out new post processing techniques, and let your creative spirit come alive. Join the Self Portrait Saturday challenge!
———-
Are you shooting with training wheels? 
Tired of blurry or incorrectly exposed photographs? 
Perhaps your subjects look great but the skies are always blown out and not sure why? 
Wish you could take better photographs with your camera?  
Ready to take your photography to the next level?
Get your camera to do what you want it to do by taking back full control over the camera.  
B. In Focus is a four week online course with a fifth bonus 'teacher free' week. Whether you have a simple point and shoot camera or a complex DSLR you can take this course.  You already have the technology and the creative eye, now learn how to combine the technical and the artistic side of photography to become a better photographer.  
Listen to what current students are already saying about B. In Focus!
"LOVING this course!! Shot in Manual a wee bit today!"
"You've done such an amazing job with all of this. Thanks so much for this!"
* Bonnie Rose Photography © 2007 – 2013 All Rights Reserved | http://www.bonnie-rose.co.uk