Another Saturday is upon us and that means it is another edition of Self Portrait Saturday. This is a reflective piece about my current view of life.  A portrait of myself inspired by my father's view of living life and enjoying life to its fullest.  We are inherently never in full control. We can no sooner control life's outcomes than we can control the weather.  Sometimes this lack of control can cause people to try to control people around them.  Be it to modify their world views or force people into the same mold of how they envision life should be.  Feeling we cannot control our situations some people are quick to judge others around them or point out every moment where something is out of place, not right, or goes wrong.  Life should not be forced. Nor burdened under the weight of guilt passed on from one to the next.  Life should be full of passion. We may not be able to control the song, but we can choose to dance.
DO YOU LOVE SELF PORTRAITS?
I try to do one every week and post on a Saturday. 
 If you would like to link up with me, add this button to your blog. 
I would love to see your photography!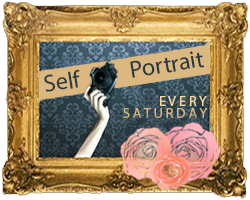 If you find the button code is not working for you, 
feel free to right click and save the button to your computer and upload it to your post.